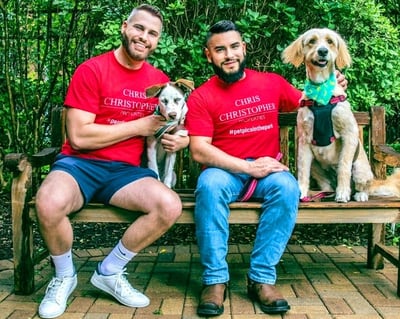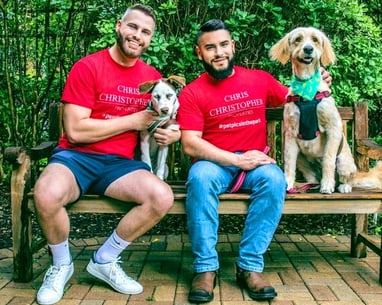 Pictured above: Pet Pics in the Park Co-Founders Tanner Williams and Christopher Cerda along with Sascha and Mishka.
ABOUT PET PICS IN THE PARK
While driving together in 2020, we received a phone call asking for assistance to raise money for a new roof for Avenue 306's Omega House, a nonprofit HIV hospice. Our first inclination was to think about organizations capable of providing funding. Then it occurred to us that we both have experience bringing people together to help those in need. So while driving, we brainstormed ideas on how best to engage our friends and community. It just made sense. People love their pets. People love sharing their pet photos online. And people enjoy going to the park. Thus, Pet Pics in the Park was born.
We invite everyone, and this especially includes your fur babies too, to open your hearts and help us raise funds for a worthy cause. Every dollar helps as we come together to help others in need. Thank you from the bottom of our hearts. Because of you and your support, Pet Pics in the Park remains a fun and loving event for all to share.
"Pets are humanizing. They remind us we have an obligation and responsibility to preserve and nurture and care for all life."
– James Cromwell
CHRISTOPHER CERDA is the owner and broker of Chris Christopher Properties, which is a sophisticated real estate company providing clients with expert care and knowledge to secure their real estate goals. Clients receive 24-hour assistance and full-serve care throughout all real estate transactions whether buying, selling, or renting a property. Chris has nearly 20 years of real estate experience. In addition, he is a current instructor at the Champions School of Real Estate, one of of the most respect names in real estate education. In his spare time, Chris is a member of the campaign board for Victory Fund, sponsor & player of the Montrose Softball League, and a member of the Executive and Professional Association of Houston (EPAH).
Chris Christopher Properties: https://www.har.com/chris-christopher-properties
Facebook: www.fb.com/chrischristopherproperties
Phone: 832-868-9914
Chris Christopher Properties is the named presenting sponsor of Pet Pics in the Park.
TANNER WILLIAMS is the Director of Operations for the Texas American Federation of Teachers (Texas AFT). Texas AFT is a statewide union with 66,000 members, including educators, school employees, and retirees. Texas AFT believes that education is the path to a just and democratic society and that the only way to give students a quality education is through the dedicated work of empowered public educators. Tanner serves as a member of numerous nonprofit organizations, including as a Board Member for the Bering Asset Board, which seeks to support Omega House. In addition, Tanner is a Board Member for Texas Pride Impact Funds (TPIF) and a former president of The Diana Foundation, which is recognized as America's oldest continuously active gay organization.