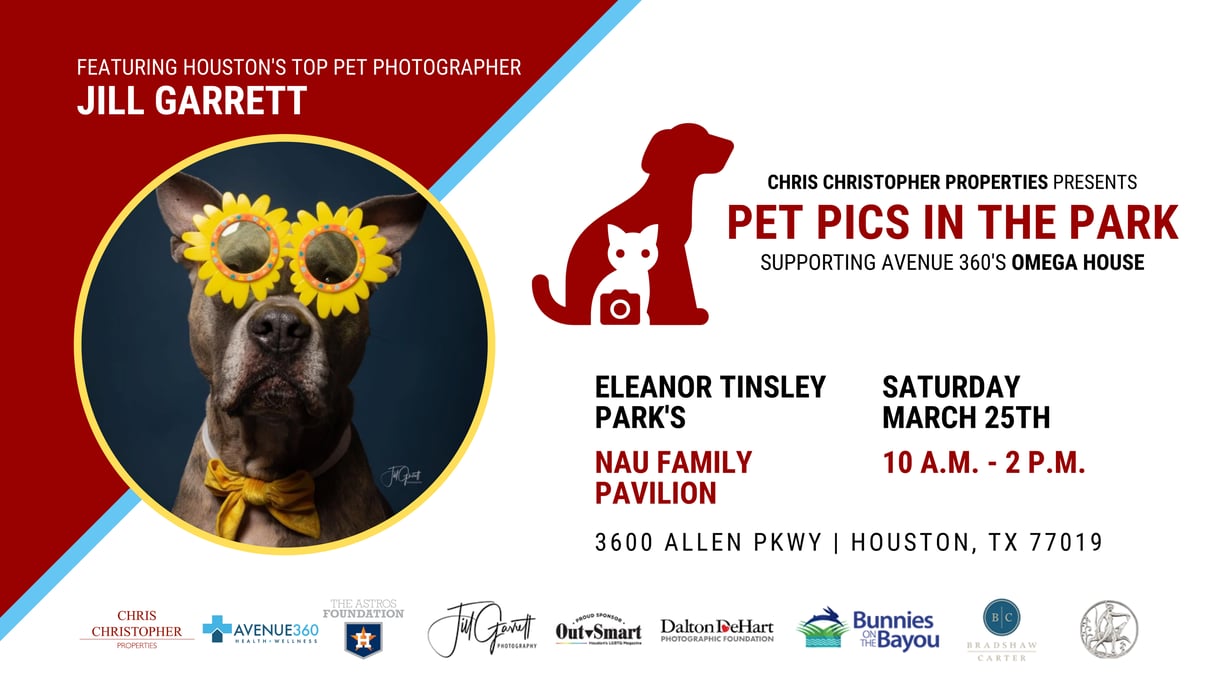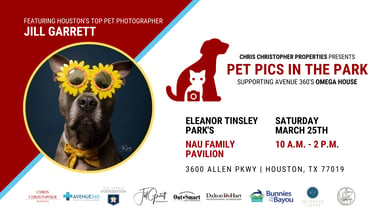 Prepare your pet for a fun day at the Nau Family Pavilion at Eleanor Tinsley Park on March 25. We will have some pet waste bags for you, but please be sure to bring a few extra in case you explore the park.
Before you head over to our event, be sure to tell your friends. Invite them to attend too. Don't worry if you do not have a pet of your own. We will have some special props for you to use, or you may ask to borrow one of the lovable pets in attendance for a quick cameo photo.
All pets must be on a leash at all times. No exceptions.
Guests are encouraged to make a donation of their choosing to support Avenue 360's Omega House. Donations may be made on site or prior to our event online by clicking here.
VIP sponsors and donors will receive 30-minute reserved parking spaces at the Nau Family Pavilion. Additional parking is available along Allen Parkway, at Lot H (1643 Memorial Drive), and at the Park's visitors center (105 B Sabine Street). Please give yourself plenty to time to find parking as the park is generally very busy on the weekends.
Upon arrival to the Nau Family Pavilion, guests may enjoy visiting with our sponsors who will be setting up tables to provide information about their upcoming events and services. Please say "Thank You" for their generous support.
Guests will line up and wait for their turn for a photograph.
When ready, Houston's top pet photographer, Jill Garrett, will take your pet's photo. Humans are encouraged to have their photo taken with their pets too. Enjoy the moment. No rush! Jill is the best to assist you and your pet and help create a wonderful photographic moment.
After photos are taken, guests may enjoy the park. As part of the Buffalo Bayou Partnership, a dog park is available down the street.
Guests will receive a QR code and details where to access their photograph(s).
Photos will be uploaded to this website within 48-hours of our event to download. Jill will take a little time to make some professional edits, but it shouldn't take that long.
We ask that everyone take selfies at the event and also share our event details in social media. Help us make this year's Pet Pics in the Park a wonderful success. Thank you in advance for supporting Avenue 360's Omega House.
NAU FAMILY PAVILION
ELEANOR TINSLEY PARK | BUFFALO BAYOU PARK PARTNERSHIP
3600ALLEN PARKWAY
HOUSTON, TX 77019
VIP PARKING: VIP reserved parking spaces are available at the Nau Family Pavilion for anyone donating at one of our sponsorship levels. VIP parking spaces are limited to just 30 minutes each. Additional parking is available along Allen Parkway.
GENERAL PARKING: Parking is available at one of the following locations.
1643 Memorial Drive, Houston, TX 77007
Paid parking under $6 at Lot H (15-minute walk to the Nau Family Pavilion)
105 B Sabine Street, Houston, TX 77007
Located by the Water Works at Buffalo Bayou Park, the Park Visitors Center provides free parking; however, spaces are limited.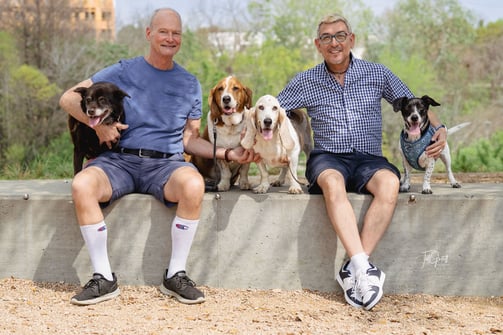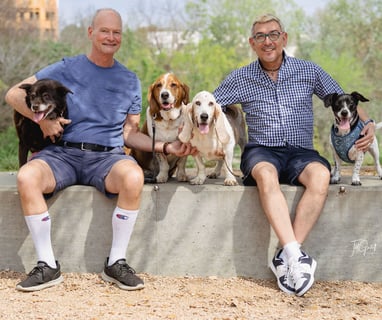 Special thanks to our models Glenn and Justin Dickson with their beautiful dogs Angel, Molly, Aggie, and Billy.